10° anniversary for Grafos Steel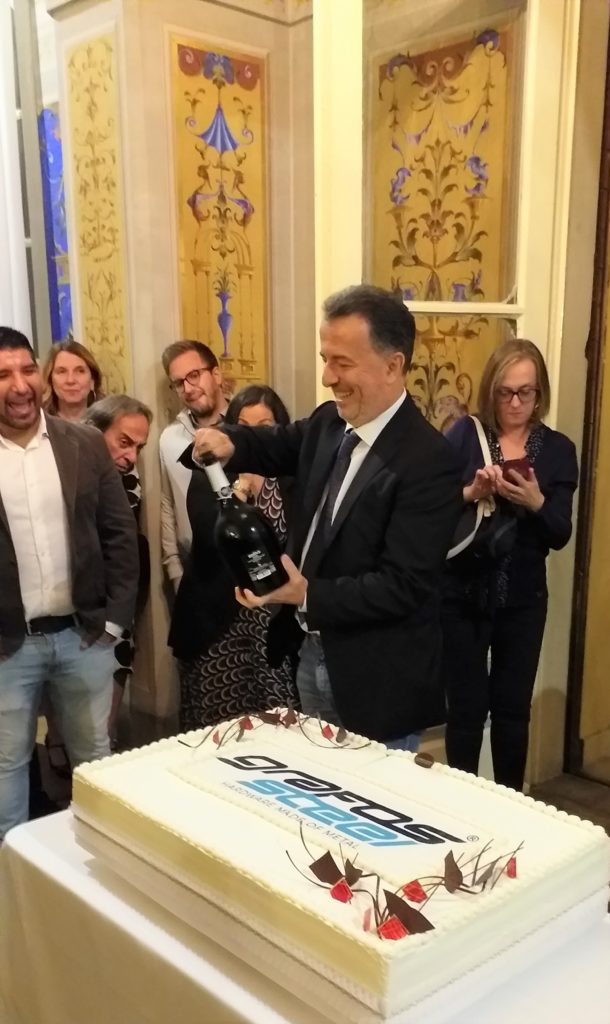 Colombaro (MO). CEO Roberto Gatti started the ceremony for the tenth anniversary of Grafos Steel with the cutting of the cake. More than a hundred guests were gathered in the beautiful setting of Villa Agazzotti to praise the important achievement of the Italian specialist company in metal hardware. Key representatives from the local politics and economy joined the celebration for the prosperous growth for the company that was established in 2009.
Roberto Gatti in his speech highlighted the significant success of the company. In the last five years, the turnover increased from 2,2 to 7,5 million Euros. At the same time, the workforce grew from 12 to 60 employees, thanks to the conclusion of important orders and to key investments in production equipment.
Within the range of the products, the expansion of the milled panels department turned out as a fundamental factor of growth. This segment reached the levels of the core business of the company in the industrial keyboards sector. Eventually, the acquisition of a specialized company enabled Grafos Steel to offer now a complete array of products and become a leader in the manufacturing of hardware components.
Now the payoff of the company really resonates: "Hardware made of metal".
"Thanks to a renewed organization and a new range of products, the support, and the know-how of our employees and a specialized international marketing department, the objective for our next ten years will be to establish Grafos Steel as the European reference point in the manufacturing of hardware for control technologies."  This was the vision shared by Roberto Gatti. And the first step in this new direction is the launch of the new website of the company, featuring a comprehensive depiction of the products and services provided by Grafos Steel.